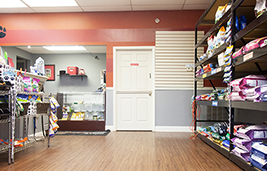 Suwanee Holistic Pet Foods
Our Pet Foods
We currently carry several lines of high quality holistic pet foods and treats which bolster your pet's health from the inside out. All of our dog and cat foods are made in the USA and are corn, wheat, and soy free. Please feel free to ask us to go over the pro's and con's of each for your pets dietary needs. Just like people, every pet is different and no one diet is suited for all breeds, sizes, health and activity levels.
"If you don't see what you are looking for, please contact us. Many products that you don't see here are available on Special Order upon request."
"Please note that as a specialty boutique retailer we participate in the manufacturer frequent buyer programs that the big box retailers do not. Please contact us for details."
Information on our Fine Products
Canine Caviar is the first True Holistic Pet Food and the Only Grain FREE and Alkaline based pet food diet in America that is specifically designed to help reduce the risk of cancer and other health related conditions.
New Precise Holistic Complete
Everything dogs or cats need to thrive can be found in our newest, specially formulated line. Real, high-quality meat proteins. Essential nutrients including antioxidants, botanicals and herbs. Wholesome carbohydrates. Unique and beneficial fiber. Balanced Omegas. Even Probiotics.
Hi-Tek Grain Free dog foods were created in response to the requests of thousands of serious loving pet owners who wanted a Grain Free alternative that could help them solve a variety of nutritional challenges to their dogs at a price that makes sense. Hi-Tek Naturals Grain Free not only meets those challenges, this food is irresistible to nearly every dog that tries it. The benefits of outstanding nutrition from an unparalleled ingredient selection make this Grain Free compelling, as does the price. This outstanding dog food is a highly competitive value that doesn't make quality cost more.
Eagle Pack® is an innovative pet food brand. At Eagle Pack, we pride ourselves in delivering the right balance of proteins, fats, carbohydrates, antioxidants and omega fatty acids for results you can see – shiny coat, bright eyes, good digestion and energetic spirit. We believe that better pet food means better performance. You too can count on our American-made pet foods to naturally fuel your pet's daily adventures, both big and small.
In Recent years the proper diet to provide correct nutrition to our companion animals continues to be a highly debated subject. Grain or No Grain, Potatoes or No Potatoes, Soy or No Soy, Gluten or No Gluten, Just Meat or Just Meal?
At Pets Global, we see things differently. We believe a food should be created with highest quality natural ingredients and be based on the nutritional science of the glycemic index with a touch of love.
Our belief is that your canine companion is an integral part of the family and they deserve the best. Although nothing can ever replace a raw natural diet, in our modern age of concrete cities and suburbs it's not always easy to let our dogs chase down their dinner.
Dick Van Patten's Natural Balance® Dog Formulas are used and respected worldwide by top trainers, breeders, veterinarians, kennels, and caring pet owners who want the best for their animals.
Natural Balance® products provide complete and balanced nutrition in a variety of foods, from dry, canned, dog food rolls and treats. Choose a formula to learn more about it. Read our ingredient panel… It speaks for itself!
Why BLUE? Because only BLUE is made with the unique combination of high-quality, natural ingredients plus exclusive LifeSource Bits.
We love our dogs and cats like family so we want to feed them with the same care as family. That's why BLUE™ is made with only the finest natural ingredients plus the active nutrients and antioxidants of our exclusive, cold-formed LifeSource® Bits.
You'll be surprised to know that many of the well-known pet food brands contain ingredients like chicken by-product meal or poultry by-product meal, corn, wheat, soy or artificial preservatives. When you compare dog food or compare cat food, we think you'll find BLUE is a better choice–one that you can feel good about giving your beloved four-legged family member.
Treats
Zuke's is a company devoted to making healthy, affordable treats and chews using top-quality ingredients and formulas that reflect the latest scientific developments in animal wellness and nutrition. Zuke's dog and cat treats are made with care and are inspired by the unconditional love we receive from our pets as well as our devotion to an active, outdoor lifestyle.
TheraCoat is a revolutionary dietary supplement that helps improve
intracellular health which dramatically enhances the overall appearance and well-being of dogs and cats. TheraCoat is a new solution for treating sparse hair, itchiness, dermatitis, hot spots and other skin issues!
All Jones natural meat treats and chews for dogs for dogs are created using only USA meat products and never any artifical ingredients.
NUPRO® All Natural Dog Supplement was researched and developed by a nutrition doctor. It is a totally holistic product that replaces the vitamins, minerals, and digestive enzymes that a dog does not get from his processed food. In other words, what we are doing is replacing with natural ingredients what a dog would normally have gotten in the wild. It is excellent for all breeds and all ages from puppies to geriatric.