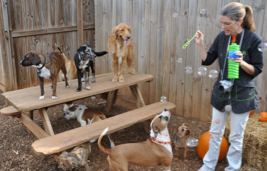 Suwanee Pet Daycare
Doggie Daycare
Do you have a rowdy or young dog that needs to burn off some extra energy? Are you away from your house for a majority of the day and need somewhere your pup can come and play?
We offer size appropriate supervised safe play for dogs. During a typical day your pup will come in greet his/her friends and play the morning away in our 1200 square foot indoor/outdoor play area.
There are ramps and tunnels to play in and plenty of space to unwind. We then have a 2 hour nap and rest time and those pups that need to eat are fed. In the afternoon everyone comes back out to play. Your tail wagging friend will surely thank you for the day.
PawPlay allows your dog to run and play in a leash free environment. Dogs are genetically social creatures and have the innate desire of being around other dogs and people. Your dog can become lonely during the day when you are at work, shopping or busy running errands.  Instead of being in a crate all day or getting bored, we know what happens when your dog gets bored.  They get to come and play all day. PawPlay  is a great way to get some much needed exercise for your dog.  When you pick up your pooch he or she is tired and ready for a good night's sleep.  You won't feel guilty and your dog has had a really good time. While you're off at work, your dog can be romping, fetching, socializing, and having an all-around good time, after spending the day in active play and socialization, you will bring home a happy, fulfilled dog whose behavior and demeanor will be what you need after your own active day.