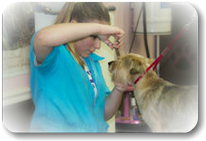 Terissa
Manager
Terissa grooming a dog at The PawPlex Terissa Uhrich has been working at The PawPlex since 2009. She loves working with animals and worked in our kennel and as a bather before joining our award winning groom team. Last year Terissa attended the Paragon School of Grooming and graduated with honors. She recently competed at the Atlanta Pet Fair and won Best First Timer in the Potpourri Class, Best First Timer in the Standard Poodle Class, and Best First Timer in the Miniature Poodle Class. Terissa enjoys spending time with her two dogs, Hunter and Alibi.
Pet Stylin' Since: 2009
Specialty: Standard Poodle and Miniature Poodle Class
Accolades: Graduated Paragon in July 2011
Favorite Breed:
Brittney
Brittney has been working in the pet industry since 2008. Starting out as a receptionist, her passion for animals drove her to work in the kennels and as a bather. She decided to become a groomer and graduated from grooming school in March of 2010. She then went on to complete a two year apprenticeship learning about different breeds and breed cuts. Her favorite breed is the Great Dane. She has a five year old Merle Dane named Midas who loves coming with her to work and playing in daycare!
Pet Stylin' Since: 2009
Specialty: Miniature Poodle Class
Accolades: Graduated groom school in March 2010, 2 year apprenticeship
Favorite Breed: Great Dane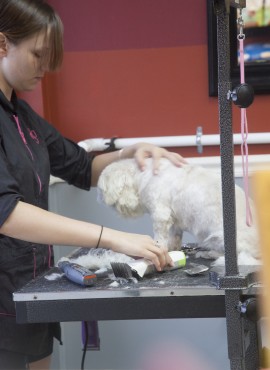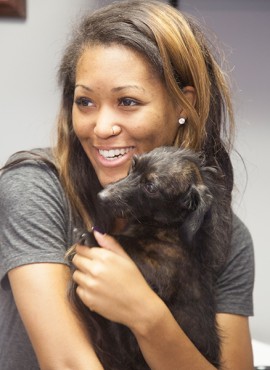 Kacie
Marketing Coordinator
 Kacie is the marketing coordinator here at The Pawplex. She has always had a passion for all animals but dogs & cats are her favorite. Kacie has been in the pet industry for the last six years and enjoy every moment.   Since Kacie couldn't have all the pets she wanted, she decided to jump into the pet industry to be able to be around her passion. Her favorite breed would have to be the Cane Corso, she love everything about the breed & their loyalty.
Favorite Breed: Cane Corso
Pet Stylin' Since:
Specialty:
Accolades:
Tracy
PawSpa Pet Groomer & Stylist
Tracy has been in the pet styling industry since 1991 working in all-breed salons, a large poodle kennel, a breed specific grooming salon, veterinary clinics, and mobile pet styling salons. In 2001 she began her first successful business, Grooms To Go Mobile Pet Styling in Suwanee, Ga., then opened The PawPlex, a styling, daycare, boarding, and holistic pet food facility.  In 2004 her first time out as a competitor she won "Best First Timer" in all five classes at the Atlanta Pet Fair and a Group 1 with her Standard Poodle out of the Entry Level division.
In her second season of competing she garnered a coveted spot on GroomTeam USA, having success with American Cockers, Airedales, Poodles, and mixed breeds. She served as the the National Secretary for GroomTeam USA from 2007-2011. Tracy was a Cardinal Crystal Achievement Award Nominee for The David G. Salzberg Award for Outstanding Contributions to the Industry when she and her husband gathered funds and equipment to help the groomers on the Gulf Coast after Hurricane Katrina. Tracy is a speaker and judge at grooming seminars and enjoys mentoring other stylists.
Pet Stylin' Since: 1991
Specialty: American Cockers, Airedales, Poodles and mixed breeds
Accolades: Cardinal Crystal Achievement Award Nominee for The David G. Salzberg Award for Outstanding Contributions to the Industry
Favorite Breed: